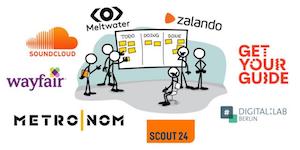 Last week, a group of 25 practitioners met in the Meltwater office in Berlin for an unconference about applying product management to internal platforms in the Engineering Enablement domain.
In this post we share some of the topics discussed at the unconference, and how we want to take this inter-company exchange about Engineering Enablement forward. Come join us!
The Domain
Engineering Enablement is what we in Meltwater call the domain of providing platforms and training to enable our teams to deliver high quality software products to company customers in a sustainable and repeatable manner. Other organisations call this differently (Platform Engineering, Developer Productivity, Developer Experience, etc).
No matter how everybody calls it, it is increasingly common to find dedicated teams focused on this domain in modern software companies, each approaching it in their own way.
Outcomes of the Unconference
In this follow up to a first knowledge sharing session between Zalando and Meltwater, we met with participants from GetYourGuide, Metronom, Scout24, SoundCloud, Volkswagen Digital:Lab, Wayfair, Zalando, and Meltwater in Berlin. The goal was to learn from each other about how we each approach Engineering Enablement and apply product management practices to our internal Software Delivery Platforms. We chose an unconference format to facilitate the event, to make sure that all voices got heard.
After a full day of healthy discussions, and healthy food, the group concluded that this event was a great opportunity to talk about the approaches that our companies take and an invaluable way to reach outside the boundaries we normally operate in. We covered over 25 topics, each worthy of their own blog post. Here are some examples:
How to build the right thing using Customer Discovery and Product Discovery techniques, when your customers are internal engineering teams?
The impact a culture of autonomy has on Engineering Enablement
How to sunset Internal Platform Services?
Providing a Kubernetes Platform as a Service
The Impact of Putting a Monetary Value on Internal Services
Providing Support to your Platform's Customers - How does everyone do it?
What's next?
Finally, we agreed that we want to do events like this again. We already have some ideas on how to make this better, including inviting further companies to hear even more different points of view. Specifically we are looking for companies with 100+ developers that have an internal platform team with a product mindset.
If you are interested in Engineering Enablement and topics like to the ones above, please fill out this form. We will contact you ahead of the next event.
Below a picture of the lovely crowd that attended this event. We want to thank all of them again for making this event a success. We hope to see you all soon!