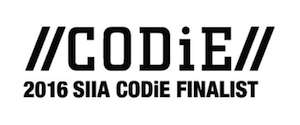 Today, we are very proud to announce that Meltwater was chosen as a finalist for the 2016 Software and Information Industry Association (SIIA) CODiE Awards in the category for Best Content Analytics Solution!
The CODiE Awards are the industry's only peer-reviewed awards program. To get to the finals, we had to demo our product to two independent software and business technology executives with serious industry knowledge and expertise. Winners will be announced during a virtual award ceremony on May 18, and we are down to one of four finalists out of 50 entrants.
After our team had demoed to the judges, some of the comments on our new Meltwater Media Intelligence platform included:
I found Meltwater to be an impressive media intelligence platform. The analytical tools help customers discover meaning in a barrage of daily content. Meltwater makes it easy to pick out nuggets of important information in a timely manner."
Meltwater has a host of out of the box analytical tools but what was impressive was the way a user could create and tailor their own monitoring queries that feed the analytical tools. Whether you are tracking keywords, concepts or engagement their tools make the job easier.
We are all very proud of this third-party industry recognition! It validates all of the hard work that our Product and Engineering teams have put into our product over the last few years.
So please wish us luck for the finals on May 18th!