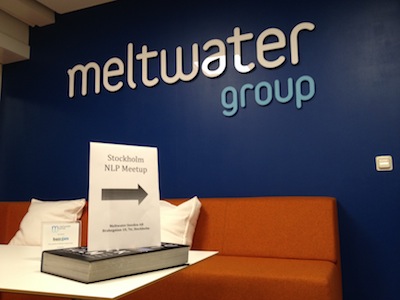 Meltwater just initiated the Stockholm Natural Language Processing Meetup, and on October 23, 2014, we hosted the kick-off session in our office in Stockholm.
The idea of creating this Meetup emerged from a Knowledge Sharing and Tech Talks culture in Meltwater's Data Enrichment Team. We thought that we could go beyond this and create a platform in Stockholm to bring closer academia and industry as well as an opportunity for people to interact with teams or individuals in similar fields and learn together. Having this in mind, we launched the Stockholm Natural Language Processing (NLP) Meetup, which is sponsored and organized by Meltwater.
This Meetup is a group for people in the greater Stockholm region, interested in NLP and applications and related technologies. The Meetup gatherings will explore research, applications and the latest advancements in NLP and related fields. The meetings will be an opportunity for interested individuals to network, learn about NLP oriented topics, share their experience in industrial work or research projects, and have a forum to discuss topics of interest with both academic and industrial experts. Topics will cover a wide range from Computational Linguistics, Machine Learning, Information Retrieval, Data Analytics, and Media Monitoring. These topics are not limited to pure NLP domain but also solutions/research in other domains which can potentially be applied in NLP. If you would like to know more about this event, take a look at the roadmap discussion slides presented at the kick-off.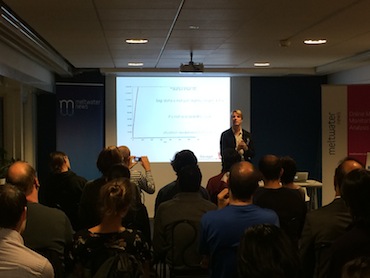 At the kick-off, first Sahar Asadi from our Data Enrichment Team (Stockholm Office) presented a roadmap and vision for the Stockholm NLP Meetup. In the main session, our invited speaker Jussi Karlgren presented a talk on "What technology requirements we should pose on Big Data analysis tools?. Jussi Karlgren is an adjunct professor at KTH and co-founder of Gavagai. Slides of this presentation are available here. Recorded presentation is on youtube. Following the main session we had a discussion panel about the topic.
The involvement of the participants in the roadmap discussion as well as the discussion panel was exciting. We received great reviews and suggestions for topics and invited speakers for the next meetups.
The Stockholm NLP Meetup currently has 79 members. We are planning to organize meetup events once a month and we have a good pool of ideas of exciting topics to address and speakers to invite. For this purpose, we had already been in contact with senior researchers from KTH and Stockholm University and related Tech companies.
Below you find further impressions of the meetup. Stay tuned, as we share more news about the Meetups in our next blog posts :-)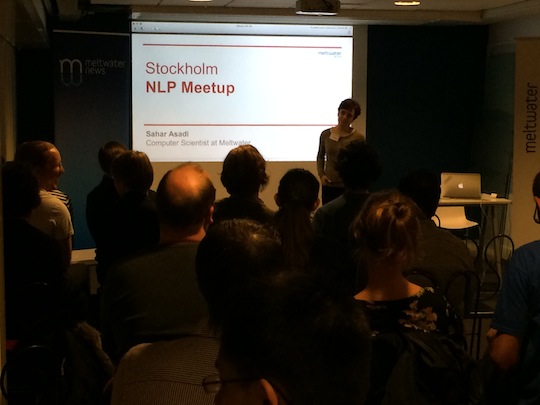 NLP Meetup Vision and Roadmap - Sahar Asadi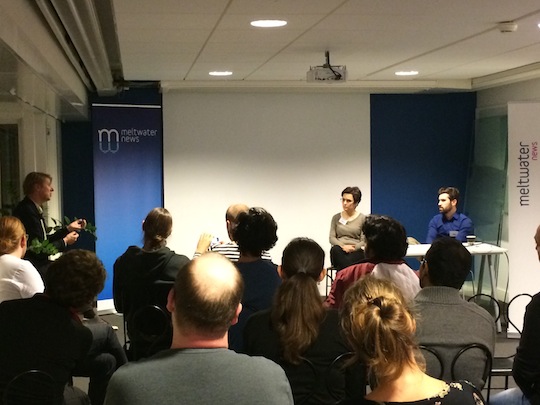 Discussion Panel - Sahar Asadi, Andreas Klintberg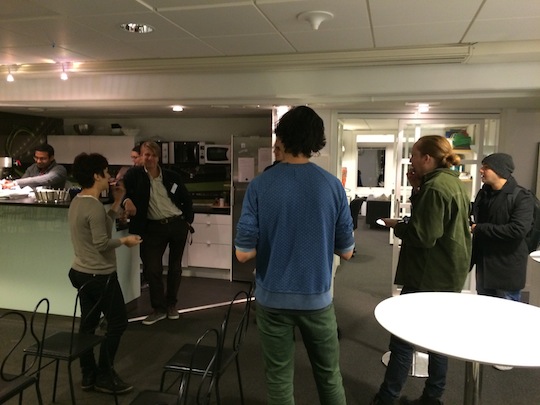 Mingling time :-)