Today we are putting the developer spotlight on Camila, Engineering Trainee for our Self-Service Applications team in Berlin, Germany.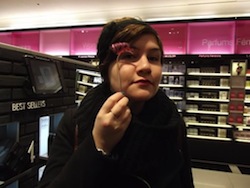 Hello everyone. I was born and raised in Santa Maria, Rio Grande do Sul, South of Brazil. That is where I also studied and figure out my way between bits. In 2008 I decided to move to Porto Alegre, where I got to know some free software people (especially from Gnome and KDE). Later I started using Ubuntu/Gnome, but then I met some even crazier people and start to use Fedora/KDE and eventually I got even more crazy and moved to ArchLinux/KDE. So you can say I know the ins and outs of the Linux world :) Now that I am more calm I am enjoying to use openSuse.
Continuing the story: From free software people I learned what free hugs and segmentation faults mean. I also learned that giving talks is not that hard. In 2010, I got the chance to travel to Finland, where I met my future-husband, a Dutch-KDE-guy. Back in Brazil I developed a plugin for Kdevelop, kept giving talks, studying and working until I got tired of all that, and we decided that Berlin was the place to be.
So I left Brazil to 'build up' a home in Berlin with my now-husband. In 2012, between ups and downs, I learned to enjoy the German language, the food, the people and even the looooooong winter.
What about 2013? So far, so good. I have been working for Meltwater for more than a month now. I am learning a lot, from Ruby to SCRUM, and having fun. Thanks Meltwater :)
Developer Spotlight Questionnaire
Role? Engineering Trainee
Office? Berlin, Germany
Favorite text editor? Kate
Favorite programming language? C

Developer joke?





Hobbies? When I am not pretending that I am a good housewife, I like to read (blogs and books), hack on some projects of my own, go to some Berlin meetups, spend time playing with my dog and watching TV series/movies.