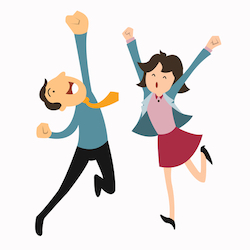 At Meltwater, we have been running a quarterly employee survey with 350+ people in the Product & Engineering group for three years. This post explains our journey, our approach and what we have learnt.
Read on if you are wondering how an employee survey can help you understand your organization better and create strategies to improve engagement on various levels.
Why?
We started running employee surveys due to a large scale engineering change effort that kicked off in Jan 2016. I was part of the team of 9 leaders from various functions and geographies that led this effort.
The change effort occurred as we wanted to get closer to these outcomes: deliver business value quickly, with high product quality while delighting our customers and increasing team engagement.
To meet the above outcomes over the next two years, we drove 20+ initiatives that fell into these larger themes:
A huge part of our culture at Meltwater is people: we hire based on potential and we place great emphasis on personal development and engagement. As leaders, the responsibility we have is creating the environment that promotes growth and engagement.
In a nutshell, we wanted a way to measure impact of these changes on our employees and measure long-term trends.
How?
After much research, we picked the eNPS (Employee Net Promoter Score) method for the following reasons:
The first survey ran in May 2016 and resulted in a 75% participation rate. It was fascinating and overwhelming in a good and thought provoking way to see all the feedback come through.
The results (scores and themes) were presented at a quarterly engineering management meeting. The presentation resulted in a round of applause which represented excitement that we had data that came directly from our employees. Data that we could use to measure the impact of change AND data that could influence the changes we were driving.
Looking back
Our eNPS scores and trend between May 2016 and Dec 2018
It is now 2019, and we still run these eNPS surveys. Over the last 3 years, the feedback collected has provided value to us in various ways:
Objectivity in perspective. I cannot stress how valuable the data from these surveys are towards understanding global sentiment. The surveys provide an opportunity for everyone to be heard, not just the loudest voices.

It helps us prioritize our efforts towards where we can make the greatest impact. In the initial two years, we saw global themes of why employees enjoyed working at Meltwater (Promoter themes). We also saw the difficult truths of why employees did not enjoy working at Meltwater (Passive and Detractor themes). As a result, we started or adapted initiatives to help increase employee engagement. Some of the initiatives that came out of the feedback include

Improving the way we share information with our engineering teams across the globe
A new career path framework
New processes that promoted clarity and alignment on our product strategy

In the second year, we saw some of these global themes shift as a result of these initiatives. It was highly satisfying to see that the changes had a positive impact on our employees. An example…

A major reason we started the change effort in 2016 was because the pre-existing structures were contributing to slow product development and disengagement. Shipping a simple feature required 5 teams of 5-7 people per team coordinating across the globe. It was highly inefficient and painful for our teams.
We drove changes that promoted cross-functional teams. This meant that a team had all the necessary skills to develop, ship a feature and maintain it.
Within a year, we saw the major Promoter theme evolve to "autonomy and ownership". Teams were much happier with the progress they were making AND were excited to be on this journey.

Through the eNPS survey, we are able to spot themes specific to a department or geography. This provides relevant information to our managers all around the globe. Through this information, they understand the sentiments in their areas and can actively work on managing or leveraging them.

We do this by asking for demographic data like office location and business lines. We have 12+ Engineering offices across North America, Europe and Asia. We also have about 5 major business lines within Engineering.
The flip side of not asking for demographic data would be a lot of time spent trying to solve a problem that may only be affecting 2% of teams and isolated to a specific geography OR that the feedback is buried under the larger themes.
Learnings
All in all, the data we get from these surveys and the actions they drive have been valuable. Some other things that we've learnt along the way include…
Asking the single most important question (and sticking to it)
Initially, we saw the survey as an opportunity to ask all sorts of questions we were curious about. After a series of conversation and elimination rounds, we started with these two main questions:
How likely are you to recommend Meltwater as a place to work?
How likely are you to recommend the product?
We found a lot of redundancy in the above, and simplified it to just the first question in future surveys.
The importance of getting buy-in before, during and after
Example of a summary slide that was shared in a quarterly meetup
Employee surveys can be met with skepticism. More often than not, the skepticism comes from a place of the value and purpose not being clear to our employees. To help manage this, we share the results (scores, trends and main promoter and detractor themes) and outcomes with everyone via various forums:
Product Quarterly Reviews
Product & Engineering townhalls
Organization-wide emails
"Ask Management Anything" sessions at Engineering events
Office specific forums
Through various communication channels and smaller forums, our teams have the opportunity to ask questions and have direct conversations with leaders.
The importance of organizational culture and goals of the survey
By this we mean having a clear idea of what the organization wants to achieve with the survey and the culture it wants to promote via the survey.
This will guide things like the questions that are asked, how the data is handled, how the information is disseminated and help generate alignment and buy-in from all levels of the organization.
Anonymity
Our surveys are anonymous in the sense that we do not ask for names. However, we do ask for location and business line information.
Every quarter, we hear feedback asking for a higher level of anonymity directly or indirectly. It is not a major issue, as we've heard this feedback from 1-2% of our employees. However, the topic of anonymity is a consistent theme in the world of running surveys and we wanted to explain our approach to it.
When we hear this feedback from our employees, we ask what is contributing to that concern. Most of the time a conversation about why we ask for the data alleviates the concern. We also investigate as we want to ensure that the feedback provided by employees has not been misused in any way (we have not come across this yet).
We continue collecting location and business line information for the following reasons:
At the end of the day, we want to promote a culture where feedback is given responsibly and constructively, in a way that helps an individual, team or organization grow.
We also want to promote a culture where the feedback can be given freely, face to face. This takes courage, being bold. While we may not be there entirely, we want to take incremental steps towards that.

Location and Business line information helps leaders within those areas understand their areas better. They understand where their opportunities lie and they understand what they're doing well. We've seen the value in this over and over again in these examples:

Our VP of Support was able to understand that engagement levels were low in a subgroup due to a lack of growth opportunities. As a result, a plan was put into place to provide a career trajectory for the group.
Our Product team was able to understand that our Engineering teams needed more clarity in Product Strategy. As a result, the leaders in Product and Engineering have been working together to provide that.
An office was able to understand certain frustrations brewing around the office setup. As a result, they are expediting the planned improvements.
In Closing
Our HR team recently introduced a company-wide engagement survey, utilizing Gallup's Q12. The Q12 survey may complement our eNPS survey by measuring specific areas that contribute to engagement (basic needs, growth opportunities, direction and clarity). In 2019, we will be experimenting with running eNPS twice a year alongside the Gallup survey, which will run every other quarter.
We hope our story has provided some insights and learnings that you can use in your company. We would also love to hear about your experience. What are your doing in your company to track employee engagement and measure the impact of organizational changes on overall employee engagement?
Please share your thoughts and ask questions in the comments section below.