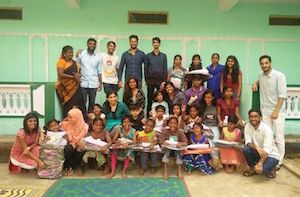 The Meltwater Bangalore team recently dedicated time to help out underprivileged kids in their local community. They collected donations in their office, and went to the Ashanilaya Orphanage in their neighborhood to spend time with the kids.
In this post Rupen Paul, who was part of this event, shares his personal account of how the team came up with the event, how they collected donations, and the experience they had when visiting the orphanage.
Volunteering for the Kids at Ashanilaya
The benefits of volunteering are practically endless. Not only are you helping others, but you're helping yourself improve as a person. Giving back gives you the opportunity to help make change in a community and work towards something great while also empowering your own self-worth. Not only does volunteering have its advantages on a personal level but it also has its advantages in bringing a group together.
Christmas, apart from being a fun holiday season, is also regarded a season of giving across the globe which is why the Meltwater Bangalore team decided to celebrate Christmas with the Kids at Ashanilaya, an orphanage near our office. The idea was to give back to a part of society that is not as privileged as us. The way we wanted to go about this was to collect money and use that money to fulfill a wish list of the kids at the Orphanage.
We exchanged emails with the orphanage and found out what the kids need the most. The orphanage makes sure that all kids have the same and everything is shared. This goes with toys, sports equipment etc. But a few things such as clothes, bags and stationary are not shared. The orphanage highlighted the need for school bags and specific clothes for the children. We discussed this idea with Nikhilesh (Bangalore Office General Manager) who ran it by the Team Leads of the Bangalore office all of whom were very supportive of this cause. We spoke about this in one of our Monday Morning Meetings and the entire Bangalore Office received this very well.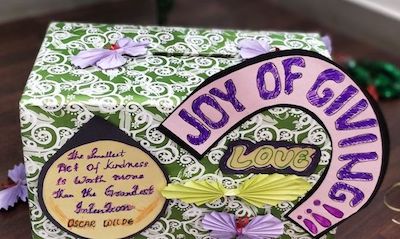 Sylvia Navachudar from the Support Engineering Team created a beautiful donation box and we placed this in the lounge of the Bangalore office so that all of us could drop in our donations. We went shopping ourselves and bought the gifts for the children and had them packed with each kid's name on the package.
On a Saturday morning, 13 of us went to meet the staff and kids of Ashanilaya Orphanage. It was a joy multiplying morning. The children were an affectionate lot and we had a great time making each other laugh and playing games. We sang a few carols for them and they sang a few songs for us. They danced for us and we danced for them, making an embarrassment out of ourselves but making the kids happy. We shared a few snacks with the kids and then gave the kids their gifts. We ended up spending 4 hours there because it was so much fun.
I am super proud of the Bangalore Office that we all came together and made this happen. This is just proof of how we all can come together for a good cause and give back to society and make our lives richer and more meaningful. This act of volunteering is genuinely the most basic kindest gesture a group of people can do to give back to society. All of us (whoever is reading this) is in a huge way privileged to be here at this stage of our lives and we need to consider ourselves lucky and we need to know that it our duty to give back to people who need us. Volunteering for a good cause as a team shows that we are more powerful together. Once you see the benefits of coming together to make something meaningful happen, you feel a sense of pride and belonging to your team and I feel that today as I write this.
People in the Bangalore Team who worked towards achieving this - Sylvia Navachudar, Livin Varghese, Ayisha Khanum, Chinju CB, Nikhilesh Wazalwar, Jasim, Abdul Mateen, Thanfiya Laiba, Rishana Johny, Adarsh Konkodi, John Victor, Sussan Elias, Vincin Pradheep, Nikitha Ramakrishnan.