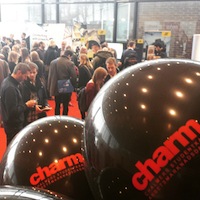 CHARM is an annual career fair hosted by the university of Chalmers in Gothenburg, Sweden. Meltwater was one of over 170 companies from different areas of business attending CHARM to meet students and show what they can offer them during and after their studies.
Our mission was to attract talented individuals to the platform teams and our proposed master thesis topics. Five members of Meltwater Engineering in Göteborg took turns to man our booth that we shared with Findwise.
The focus was to find people who love to code and are interested in search technology, distributed systems, and "big data".
We talked to many students, most of them studying either Complex Adaptive Systems (CAS) or Software engineering.
Proposed Master Thesis Topics
We tried our best to pitch both the Meltwater Engineering culture and our example thesis problems:
Scalable graph search and entity relations in real-time data streams
Scheduling search queries efficiently
Scalable and fast proximity search
Event monitoring of documents in a distributed system
Service discovery and configuration
Media outlet graphs
Our CHARM Reflections
Overall we had a blast during two days of intense socializing. We met tons of interesting, driven, and smart students. Hopefully resulting in some excellent master thesis work in the not too distant future.
We are constantly on the look out for motivated and skilled individuals who want to work with next generation search, storage, and enrichment technology. If you know someone who might be interested don't hesitate to send an e-mail to Joel Carlbark or Per Bergland.
Until next time Chalmers!