Hallo! Hello! Merhaba! I am Hans, happily married to a beautiful Turkish wife, and live in Berlin since 2002. Born in Singapore as half German, half Filipino, I have since then travelled through various countries over the years until I ended up where I am right now: Berlin! And since the very first weekend I came to this city I have fallen in love: open-minded people, come-as-you-are, multi-cultural, a vibrant electronic music scene, a wide variety of recreational/green areas, cheap & great food!
From code to servers to code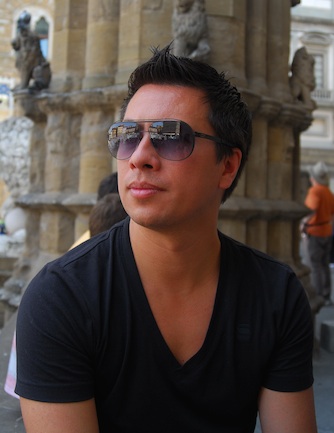 The following is a true story as it is my story: I started writing software when I was around 13 years old. At the age of 15 I wrote my very first full-blown database software, using Turbo Pascal and I successfully sold it! It has not actually made me rich but for a 15 year old at that time that definitely felt "rich"! And having accomplished this has basically influenced every major decision in life, thereafter!
This is now more than 20 years ago. During these past two decades, I have continued writing software tools, then entered the big world by joining Sun Microsystems and later on more heavy-weight server companies until I started studying at Technical University Berlin and researching in the field of Mobile Security at DAI Labor/Deutsche Telekom Laboratories. Research brought me back from the high-end server world to developing software for the very first smartphones based on Google Android.
Freelance Developer joins Meltwater
For the past years, I have been working as a Freelance Mobile and Backend Developer, building mobile apps like the publicly available Android app BSR - Berliner Stadtreinigung or developing infrastructure software for the cloud with the great guys from cloudControl. Until April 2013 when Sebastian Spier, a former fellow at TU Berlin, and a very dear friend of mine, convinced me to help building Meltwater's first mobile app!
After freelancing at Meltwater for a while, I am more than happy to join the Meltwater Berlin team full-time as a senior software engineer. I will continue my work here as part of the Berlin engineering team and help driving the mobile and API strategy within this company.
Talking about 'religion' …
I cannot stress how much I love to work in teams, have a foible for clean & lean code, get fundamental about designing data flows, try to stay up-to-date on the newest frameworks for building fast & async APIs, live for building and shipping useful things, strongly believe in the UNIX philosophy, cannot write a line of code without my earphones and a D'n'B or Deep House track running in the background and cannot go to sleep before reading & learning something new that might help me solve given problems the very next day!
Apart from that, I would also jump the next roof if you dared me or race you down a mountain road on my inline skates! Just ring me up! ;-)
Find me on Twitter or Github and feel free to invite me to a couple of beers or a glass of single malt whiskey!
Developer Spotlight Questionnaire
Role? Senior Software Engineer
Office? Berlin, Germany
Favorite text editor? (Mac-)Vim
Favorite IDE? IntelliJ IDEA
Favorite programming language? Hard to pick one, I love Bash, Python, Ruby, Scala, Java … basically whatever gets the job done! And Erlang is starting to attract me more and more!
Hobbies? Travelling with my wife to places where I can enjoy great food, my tobacco pipe and a fine glass of single malt whiskey; Inline-skating; snorkeling/diving