Today we are putting the developer spotlight on Deyan, Senior Software Engineer for our Content Services team in Budapest, Hungary.
Before Meltwater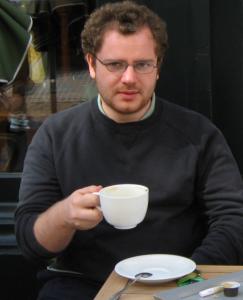 I am from Varna, a Bulgarian town at the Black Sea coast, whose forest covered beaches I am destined to miss wherever I go.
Driven by my first passion, I eventually made it to the Bulgarian national Physics team. This earned me prizes at international competitions and a scholarship for studies in Physics and Math in Paris.
A turning point that led me to pursue a software development career, first in Brussels, and later in Budapest, was my somewhat accidental internship at the GIS department of a major French internet infrastructure company.
Prior to joining the Meltwater engineering team in Budapest, I was working at the United Nations, where I was juggling with GIS data, and building small prototypes on top of it.
History in Meltwater
When I joined the Meltwater office in Budapest, I was pleased to notice the international environment of the office, much like in my former UN job. One of my first tasks in Meltwater was to get a US visa for a workshops in San Francisco, where I got to meet software engineers from all over the world.
I was initially part of the R&D team, and my tasks were mainly to research solutions and build prototypes. Roughly a year and a half later I transitioned to the Content Services team, where my tasks refocused on web crawling and data fetching. Research and prototyping remained a major part of my work, but were progressively complemented by responsibility for production systems.
My recent experiences with shipping software products are worth another blog post, so if that interests you, you may want to read All the way from Ideation to Production.
Developer Spotlight Questionnaire
Role? Senior Software Engineer
Office? Budapest, Hungary
Favorite text editor? Notepad++
Favorite programming language? Java
Hobbies? My wife and I love forest hiking, taking along our dog; one of my favorite activities at home is gardening.
Want to know more about Deyan's work as a Software Engineer at Meltwater? Please post your comments below.